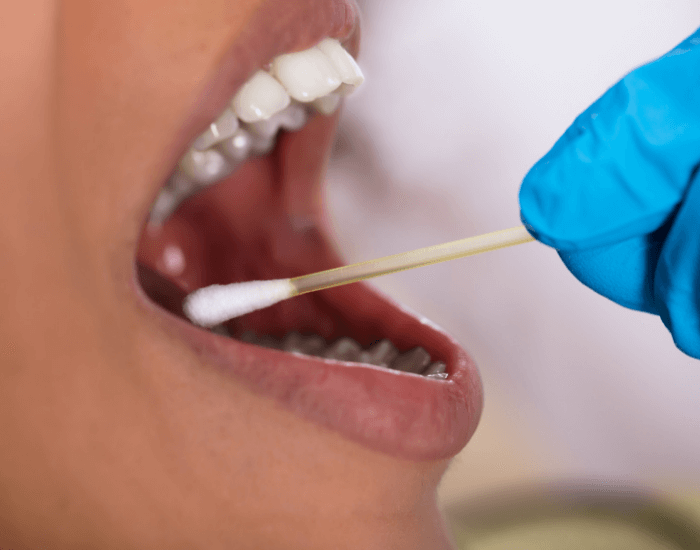 The two most popular methods for collecting DNA in labs are blood samples and cheek swabs. The DNA testing results from extracting DNA-rich cells via swabs or blood samples are exactly the same, only there are differences in how the two samples are processed. Both have different advantages. Neither has been proven to be more accurate than the other, so it ultimately depends on your preference or the lab's ability to provide. The convenience and comfort of a cheek swab (buccal swab) makes it the clear favorite for DNA paternity testing! Let's explore how these two methods work.
Swabs vs. Blood Samples for DNA Collection
Cheek Swabs for DNA Collection
People contributing DNA samples for paternity testing or immigration testing usually follow the normal procedures for DNA testing centers around the country, which generally use cheek swabs. There are actually several different methods for collecting DNA from your mouth area:
Dry procedures: This requires the insertion of swabs that scrape tissue from the inside of your cheeks. This is what is most often used for paternity tests
Wet procedure: This usually involves swishing a liquid around in your mouth and spitting the specimen into a collecting device. During this process, bacteria can also be released into your sample. This method can be used for some medical tests
Non–invasive procedure: With some procedures, you spit out the collecting solution and another is added to eliminate bacteria and help preserve the integrity of the sample. This is the type of sample required for some ancestry tests
Depending on which procedure is used at the DNA-testing facility, a collection specialist verifies the person's identity, gets a signed consent form, swabs the inside of the patient's cheek, and then safely packs the DNA specimen into its safe storage.
IMPORTANT: People often confuse collecting DNA via cheek cells and collecting DNA via spit. The two are NOT interchangeable processes. If you are doing a paternity test, do not spit on the swabs. Follow directions in the kit and be sure to scrape the insides of the cheeks only. Rubbing the gums may results in collecting excess saliva. If the swabs seem too wet to put in the paper collection envelopes, your instincts are probably correct. Take a few minutes to air-dry the swabs as much as possible by holding them up and waving them in the air prior to putting them in the envelopes.
---
---
Pros and Cons for Swab DNA Samples
Swab collections have a number of advantages:
No needle is used and no puncture of the skin is necessary
It's a quick, non-invasive procedure, with no pain involved
The DNA collected is good indefinitely after collection if stored properly
Scientists prefer the easier extraction process from a testing point of view
Patients usually are more relaxed and less stressed about the DNA collection process
They're relatively affordable to collect
On the other side, the main cons ascribed to swabs are:
Since the cells are not visible, there is no way to visually verify DNA is present
---
---
Blood Samples for DNA Testing
The process of collecting blood works basically the same as with cheek swabs, but isn't quite as easy—a needle is inserted to draw your blood. Some people are squeamish with needles, so there is always that initial testing apprehension. Although the majority of tests performed require only a cheek-swab sample, there are a few instances where a blood sample is required:
Non-invasive prenatal paternity testing: A paternity test between an alleged father and an unborn child can be performed anytime after the 8th week of pregnancy. For this test, the alleged father's DNA is collected via cheek swab, but the mother must have blood drawn. Fetal DNA is present in the mother's bloodstream, and the baby's DNA profile can be isolated from the mother's, using that blood sample
Newborn testing: Hospitals across the USA prick a baby's heel and collect a blood sample for the purposes of newborn genetic screening
Pros and Cons for Blood DNA Samples
Taking blood samples for DNA testing do have a few pros of their own, including:
Clean blood in proper tubes minimizes chances of contamination
Fast and quick procedure
Blood samples are visible
There are quite a few cons too:
If a person has recently had a blood transfusion before a sample is drawn, the results could show two separate DNA profiles
Needles puncture the skin—patients will feel some degree of pain
Multiple attempts may be required to insert the needle into smaller, thinner blood veins
Possible screaming and crying if children are required to get a DNA blood sample
Blood samples are fast to collect, though not as quick as swab samples
Which Would You Use?
Both of these tests have their advantages and disadvantages. The bottom line is that you get highly reliable paternity test results from both. No matter which method is used , a DNA sample from your mouth is just as accurate as one from your blood sample when processed by an experienced testing laboratory.
Call us at

800-929-0847

: We're here to help.
Do you have questions or comments about DNA from cheek swabs vs. DNA from blood samples? Share in the comments and we'll answer.